Reopening Service Levels
Trustees of the Twin Lakes Library System approved a phased plan for the reopening of our buildings. The table below shows our reopening service levels, which, per CDC and White House guidelines, are based on the rate of coronavirus transmission in our community. We have been carefully monitoring the local rate of transmission, and while transmission in our community is not yet at a level that we can reopen our buildings, we are planning to begin drive-thru pickup of materials. We are in the process of retrofitting the drive-thru window at the Mary Vinson Memorial Library with a teller tray and intercom system. Once this is complete, we will be able to offer drive-thru library service to patrons. Please continue to follow our Facebook page for more information and notification for when the drive-thru services will be available. We appreciate your patience, and look forward to seeing you again soon!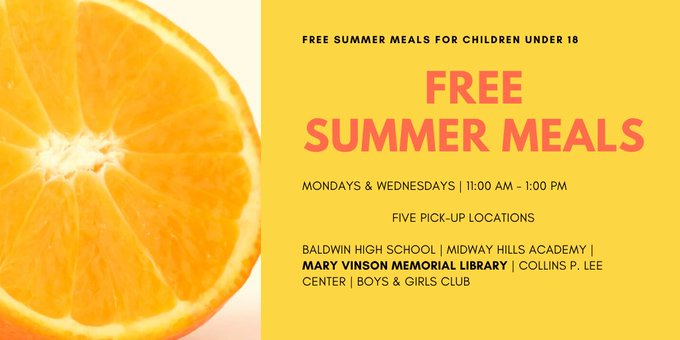 Twin Lakes Library System Response
The safety and well-being of our patrons are of the utmost importance to the Twin Lakes Library System (TLLSga). As novel coronavirus (COVID-19) continues to evolve, TLLSga canceled all public and private programming, events, and meetings. TLLSga postponed the Spring Book Sale until further notice. As of March 18, all library buildings are closed to the public until [...] at the earliest. All materials are now fines-free through April 30. No items are due while our buildings are closed. Please do not stress about returning your materials. You may return your materials to any of our book returns. All returned materials are to be quarantined for a minimum of three (3) days before checking in, so these items will remain on your account temporarily.
In partnership with Baldwin County School System, the Mary Vinson Memorial Library is a designated pickup location for the Free-Meal program between the hours of 11:00 am and 1:00 pm on Mondays and Wednesdays. Please do not get out of your vehicle during pick-up. 
Inside Our Libraries
Disinfecting children toys and children library surfaces

Disinfecting and maintaining a clean environment through the building(s)

Prior to closing from public-entry, providing hand sanitizer, wipes, tissues, etc for public use

Encouraging and practicing frequent handwashing

Staff  wearing gloves when handling materials

Staff wearing facial masks/shields when handling materials

Following guidelines provided by

Local Milledgeville-Baldwin County authorities
Disclaimer: The Twin Lakes Library System are not medical professionals nor certified legal advisors. This page is for the purpose of providing reliable information and resources concerning the current novel coronavirus (covid-19) outbreak and to keep the public informed about TLLSga as the situation develops.